With many others…
Everyone was waiting for the lucky draw. 10 lucky shoppers who had spent $100 at Mandarin Gallery won $500 shopping vouchers for more retail therapy!
Before that, I spent some time walking around the mall, browsing the sales.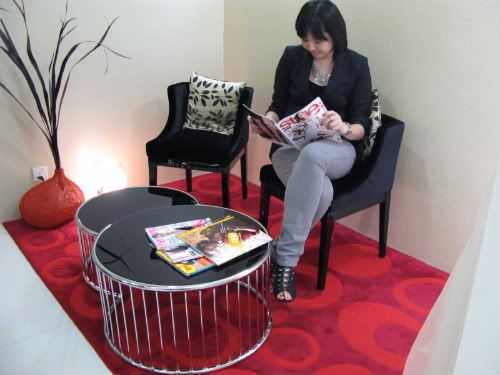 This is the VIP fitting room of Huit, a lingerie shop (#02-24). This lovely room is nestled at a corner of the store, you need to look for it!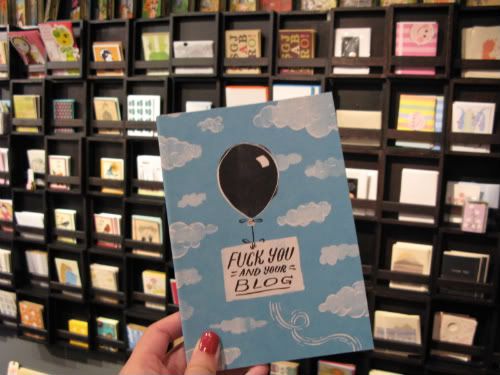 A really cool notebook from WoodWould (#03-24). I rewarded myself with a Chirpy-chirp tape dispenser ($12.90) from the store.
Exquisite stuff from MANTRA (#02-29). There is a storewide discount of 20% off. The clutch on the left has really intricate details, and is priced at $1290 before discount. If you are looking for something affordable and no less glamourous, I have found a really nice blue dress with lovely embellishments – $350 before discount.
Found a lovely reptile satchel at Retail Therapy (#02-22). That shop has all my favourite stuff! This bag is at 10% off, before discount price is $730. I also saw a cute cupcake printed cotton dress from Kooshi (#03-25). And it's on discount at about $48!!
A group photo of all the bloggers! Laila, Dottie, Me, Sarah and Dinie! And special thanks again to Sarah for bringing an extra laptop for me!
If you missed out on the Great Night Sale event, fret not! The sales at Mandarin Gallery will continue till 27th June 2010. For details of the store discounts, check them out here.


« Previous: Blogging live from Mandarin Gallery
» Next: Finalist of "Best Lifestyle Blog" – Singapore Blog Awards 2010